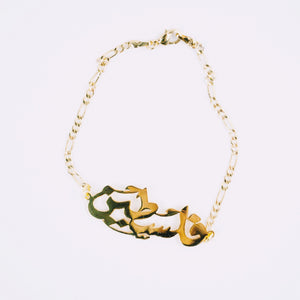 DESCRIPTION
Feature a bit of traditional Palestinian art as part of your everyday wardrobe. Our culture, after all, is our resistance!
This necklace features the name "Palestine" written in an Arabic calligraphy font. This version is gold.
DETAILS
Pendant measures about 1.5 in. in width. The bracelet length is adjustable.
Made from a strong metal and subsequently gold-plated. The chain is also made of a gold-plated metal.
Care: Though these are made from a very strong material, the necklace should be handled with care to extend its wear and avoid scratching/general damage. The entirety of this piece is made of a gold-plated metal, so avoid water contact and harsh contact to ensure longer lasting gold color.