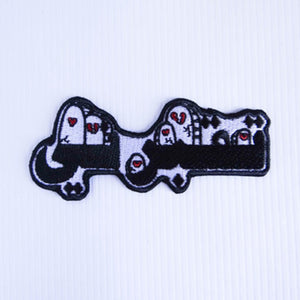 DESCRIPTION
Feature a bit of traditional Palestinian art as part of your everyday wardrobe. Our culture, after all, is part of our resistance!

I may have caught patch fever, I can't quite say. :) I wanted the first Watan patch to be playful yet be distinctly Arab. Thus, the "To2borni" patch was created! The word can't really be translated to English (which is part of its charm, I think) but can be approximated to mean "You Bury Me [in Love]".
DETAILS
Measures to be about 3.5" x 0.5".
100% embroidered with a full black border.
Patch has an iron on back and can consequently be ironed onto fabric and fabric-like backings.