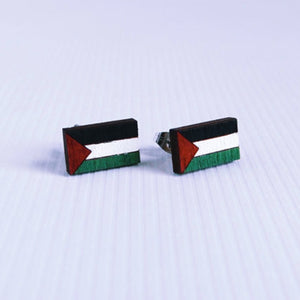 DESCRIPTION
Feature a bit of traditional Palestinian art as part of your everyday wardrobe. Our culture, after all, is our resistance!
These earrings are an homage to the flag of Palestine. It isn't meant to be an endorsement of nationalism, of course. But the Palestinian flag is a complicated concept to approach. For now, we accept it as perhaps another symbol to represent the struggle(s) for liberation in Palestine--not necessarily an association one makes with flags of most nations. Of course, this is only until Palestine is free (and we aren't talking about statehood!) and when that happens, you'll find me among those burning it lol. Down with borders and nationalism!
DETAILS
Measures about 1.5 cm in length, 1 cm in width, and .27 cm in thickness.
Made from a strong plywood; each piece is hand-painted using matte acrylic paints and are adhered to surgical steel posts with surgical steel butterfly backs. These are safe for sensitive ears.
These maps are designed to hang vertically from your earlobe.
Care: The earrings should be handled with care to extend their wear and avoid scratching/general damage. When putting on or taking off the earrings, be delicate to ensure longevity of the pieces.