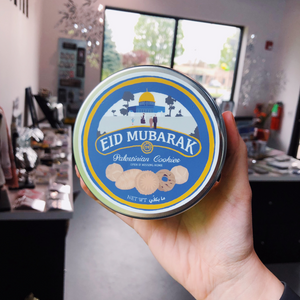 DESCRIPTION
Watan is delighted to announce its first Eid drop of this kind!
We decided to play off the popular Danish cookie tin with this Maamoul cookie tin box for Eid. This particular listing is for the tin *only*. Many individuals asked for the tin only (to package their own little Eid concoctions), so we just had to fulfill this.
Once you're done with the contents of your Eid box, recycle this tin (it'll literally last forever) and make a mini sewing kit. Yes, continue your people's history of terrorizing house guests with uncertainty about the contents of this box!
DETAILS
Measures to be about 4.5 inches in diameter.
A perfect gift to send loved ones near and far!