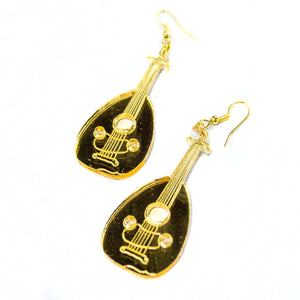 DESCRIPTION
Feature a bit of traditional Palestinian art as part of your everyday wardrobe. Our culture, after all, is our resistance!
The oud is central to a lot of Palestinian music. It also happens to be one of my favorite instruments so I decided to make a piece dedicated to this amazing instrument! Check out one of my favorite Palestinian oud musicians, Simon Shaheen, here:
DETAILS
Measures a little more than 2 in. in length.
Made from a strong, thermoplastic gold mirror acrylic material.
Care: Though these are made from a very strong material, the earrings should be handled with care to extend their wear and avoid scratching/general damage. Avoid water and harsh contact to preserve the gold color of the piece.