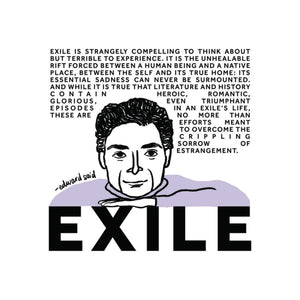 DESCRIPTION
High-resolution print of an original Watan art piece.
This piece depicts Edward Said resting his chin upon the word "Exile" with a quote from his Reflections on Exile and Other Essays above him.

This print is hopefully the first in a series of prints exploring the Palestinian relationship with exile. Watan first began, for example, out of a need to address exile and "overcome the crippling sorrow of estrangement". How do we try to overcome exile in our various contexts? How do we deal with our new temporary homes? I think understanding what we were robbed us first -- community, perhaps -- is essential to understanding exile. But, of course, this may change as this project in thinking progresses.



DETAILS
Printed on Kodak Endura Professional Paper in a lustre finish.
Perfect for your college dorm, home, or office.