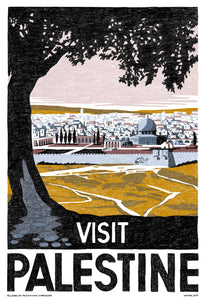 DESCRIPTION
High-resolution print of a Watan adaptation of a Zionist poster. :P
This poster was initially created by Franz Krausz in 1936 as part of a commission by Tourist Development Association of Palestine as a strategy to encourage Jewish immigration into Palestine. After a series of re-prints, however, the print took on a life of its own amongst Palestinians when it became popular in the 90s in the wake of Oslo. Today, you're likely to see this original print in the homes of Palestinians all over. You'll likely even find an adapted version including the Apartheid Wall blocking off Jerusalem as an ironic twist to the travel poster.
These particular points of reclamation fascinate me. Why do Palestinians choose to take this poster into their homes? Many, I'm sure, are unaware of its history; at the time, the name "Palestine" wasn't political so much as it was simply the (EMPHASIS HERE)

*historical* name of the place. Others are, of course, aware and yet include it anyway. Is it a statement of "we are here, we were always here", a statement of "you won't be allowed to rewrite history because you've already owned up to the fact that you aren't timeless"?
DETAILS
Printed on a semi-glossy paper.
Perfect for your college dorm, home, or office.