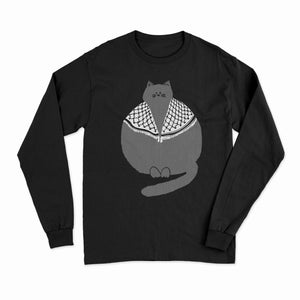 DESCRIPTION
Feature a bit of traditional Palestinian art as part of your everyday wardrobe. Our culture, after all, is part of our resistance!

This design began mostly in jest (and because we love cats so much that we imagine dressing them up in mini kuffiyehs and starting a Palestinian cat cafe at Watan, oh dear). Perhaps some may find it a bit disrespectful, this dressing of cats up in a powerful symbol of Palestinian resistance. But that same symbol has been so watered down that everyone and their mother wears it. So if every other person can wear it--regardless of their political and personal affiliations--why not a cat? Let's have an existential crisis a la "The Crucible" and ask: WHAT IS IN A NAME (i.e. SYMBOL)??
DETAILS

Made of 50/50 preshrunk cotton/polyester.
Double needle stitching at shoulder, armhole, neck, waistband and cuffs.