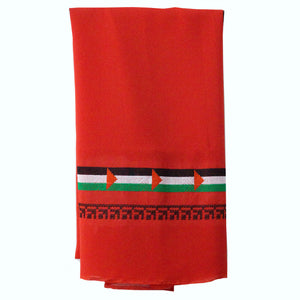 DESCRIPTION
Feature a bit of traditional Palestinian art as part of your everyday wardrobe. Our culture, after all, is part of our resistance!
This scarf was designed in-house at Watan. The flag design is bordered by the Reesha (feather) border commonly seen on Palestinian thobes.
Our scarves are produced in partner with a Palestinian studio based in Amman, Jordan. We create in small batches to ensure the quality and sustainability of each piece.
DETAILS
Dimensions: 52 in. x 65 in.
The back of the embroidery includes a black stabilizing fabric to solidify the embroidery on the scarf. The standard leftover amount of the fabric has been removed. If you'd like a looser flow to the embroidery when you receive your scarf, you can carefully rip away any leftover visible black fabric on the backside of the embroidery; this will create a looser feel to the embroidery.