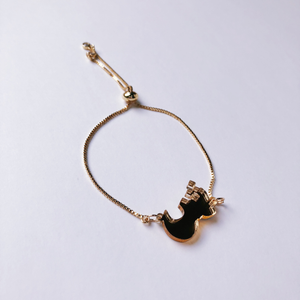 DESCRIPTION
Feature a bit of traditional Palestinian art as part of your everyday wardrobe. Our culture, after all, is our resistance!
Though not specially Palestine-inspired (in the sense of the surface-level of our culture), these bracelets play with the Arabic alphabet. Feel free to mix and match letters, initials, or even short words with our selection.
DETAILS
Measures to be about 7-7.5 in. in length; the design of the bracelet chains is meant to make it easy to both slip on the bracelet and adjust it to any circumference of wrist necessary.
Made from a strong, gold mirror acrylic.
Care: though the bracelets are made from a very strong material, the bracelet should be handled with care to extend its wear and avoid scratching/general damage. Since these pieces will presumably be worn in a high-motion area, some wear will eventually show.