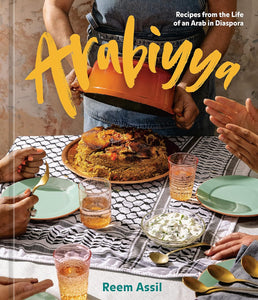 DESCRIPTION
Watan offers a curated selection of used Palestinian books, ranging from works of non-fiction to prose, poetry to novels, and more. This offering is an extension of our Palestinian Women's Library (available for free use at our Orland Park location).
DETAILS
Arabiyya celebrates the alluring aromas and flavors of Arab food and the welcoming spirit with which they are shared. Written from her point of view as an Arab in diaspora, Reem takes readers on a journey through her Palestinian and Syrian roots, showing how her heritage has inspired her recipes for flatbreads, dips, snacks, platters to share, and more. With a section specializing in breads of the Arab bakery, plus recipes for favorites such as Salatet Fattoush, Falafel Mahshi, Mujaddarra, and Hummus Bil Awarma, Arabiyya showcases the origins and evolution of Arab cuisine and opens up a whole new world of flavor.
 
Alongside the tempting recipes, Reem shares stories of the power of Arab communities to turn hardship into brilliant, nourishing meals and any occasion into a celebratory feast. Reem then translates this spirit into her own work in California, creating restaurants that define hospitality at all levels. Yes, there are tender lamb dishes, piles of fresh breads, and perfectly cooked rice, but there is also food for thought about what it takes to create a more equitable society, where workers and people often at the margins are brought to the center. Reem's glorious dishes draw in readers and customers, but it is her infectious warmth that keeps them at the table.
 
With gorgeous photography, original artwork, and transporting writing, Reem helps readers better understand the Arab diaspora and its global influence on food and culture. She then invites everyone to sit at a table where all are welcome.
BOOK CONDITION: NEW