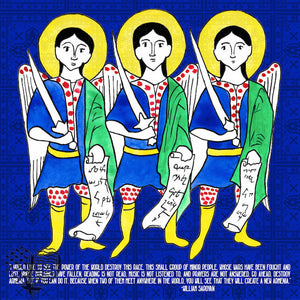 DESCRIPTION
High-resolution print of an original Watan art piece. This piece is my depiction of a tile painting found inside the Armenian Church in Jerusalem (I apologize for my swoopy Armenian script; I'm used to Arabic (other than English) and I just couldn't avoid it heheh).
I wanted to make a piece commemorating the longstanding Armenian community in Palestine (around actually since the time of Jesus!). It's just amazing to me that we arrive at the 100th year anniversary of the Armenian Genocide and yet no justice for over a million Armenians murdered and countless others orphaned and displaced has been achieved. The struggle of my Armenian friends in healing from this traumatic catastrophe and to work for justice resonates so much with my lived experience as a Palestinian in diaspora (though, of course, I do not intend to reduce our struggles but rather look for the connections). I wanted to both honor the memories of Armenians past and to honor the history of Armenians in Palestine and in our struggle.
Under the recommendation of a friend, the piece features a shortened quote by famed Armenian-American, William Saroyan: ""I should like to see any power of the world destroy this race, this small tribe of unimportant people, whose wars have all been fought and lost, whose structures have crumbled, literature is unread, music is unheard, and prayers are no more answered. Go ahead, destroy Armenia . See if you can do it. Send them into the desert without bread or water. Burn their homes and churches. Then see if they will not laugh, sing and pray again. For when two of them meet anywhere in the world, see if they will not create a New Armenia."
DETAILS
Printed on Kodak Endura Professional Paper in a lustre finish.
Note: the watermark will not be included in the actual printing.
Perfect for your college dorm, home, or office.