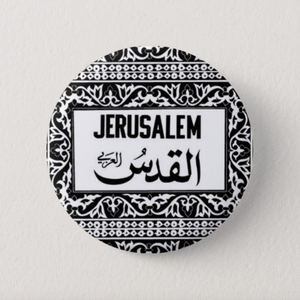 DESCRIPTION
Feature a bit of traditional Palestinian art as part of your everyday wardrobe. Our culture, after all, is our resistance!
This button features our illustration of a black and white adaptation of an Armenian ceramic tile sign with the text "Jerusalem" written in both Arabic and English. The Arabic text also includes "the Arab" to finish off the "Al-Quds Al-Arabi".
DETAILS
Measures about 1 in. in length and 1 in. in width.