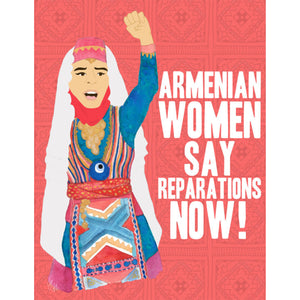 DESCRIPTION
High-resolution print of an original Watan art piece. We are proud to have collaborated with the amazing Sophia Armen--an Armenian-American and all-around kick-butt organizer--for this piece.
100 years of survival, 100 years of cultural resistance. This year marks the 100th commemoration of the Armenian Genocide, the summation of the systematic massacre by the Ottoman Turkish government of over 1.5 million Armenians, Assyrians, and Pontiac Greeks. Because of this catastrophe, Armenians were forced to flee around the world. This print is in honor of the Armenian martyrs but also the diaspora and Armenia that survives our people. That chooses to create and everyday defy annihilation. At the center of Armenian political, cultural, and social development has always been womxn who have been at the forefront of the physical and intellectual battlefields of our movements. In honor of our female fedayis, sisters, mothers, loves, selves, this is not a threat but a promise. Guided by the "ackht", or God's eye, this print connects the past to the future, with a commitment to drive away evil and hate. There can be no peace without justice and our ungerhouis have always demanded just that.
DETAILS
Printed on Kodak Endura Professional Paper in a lustre finish.
Perfect for your college dorm, home, or office.
100% of profits from each piece will be donated to Armenian International Women's Association (AIWA).