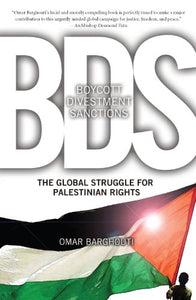 DESCRIPTION
Watan offers a curated selection of used Palestinian books, ranging from works of non-fiction to prose, poetry to novels, and more. This offering is an extension of our Palestinian Women's Library (available for free use at our Orland Park location).
DETAILS
THIRTY YEARS ago, an international movement utilizing boycott, divestment, and sanction (BDS) tactics rose in solidarity with those suffering under the brutal apartheid regime of South Africa. The historic acts of BDS activists from around the world isolated South Africa as a pariah state and heralded the end of apartheid.

Now, as awareness of the apartheid nature of the State of Israel continues to grow, Omar Barghouti, founding member of the Palestinian Civil Society Boycott, Divestment and Sanctions (BDS) campaign against Israel, presents a renewed call to action. Aimed at forcing the State of Israel to uphold international law and universal human rights for the Palestinian people, here is a manifesto for change.
BOOK CONDITION: New