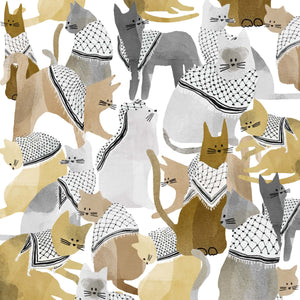 DESCRIPTION
A high-resolution print of an original Watan piece. This print is a second version of our Catffiyeh print, this time reorganized into a summer evening in Amman (aka overfilled with cats galore).
This print began mostly in jest (and because I love my cat so much that I wanted to dress her up in a kuffiyeh and parade her around). Perhaps some may find it a bit disrespectful, this dressing of cats up in a powerful symbol of Palestinian resistance. But that same symbol has been so watered down that everyone and their mother wears it. So if every other person can wear it--regardless of their political and personal affiliations--why not a cat
DETAILS
DImensions of this piece are about 19.5 inches x 19.5 inches.

Perfect for your college dorm, home, or office.