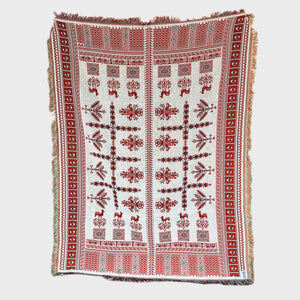 Feature a bit of traditional Palestinian art as part of your daily life. Our culture, after all, is part of our resistance.
DESCRIPTION
This throw blanket features a completely hand-illustrated Ramallah scarf (adapted to a throw blanket). Hand-illustration is especially important to us to retain the organic feel of handmade tatreez in digitized settings.

DETAILS
Measures about 72 inches by 54 inches.
Woven with 100% cotton.