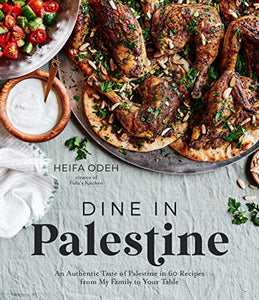 DESCRIPTION
Watan offers a curated selection of used Palestinian books, ranging from works of non-fiction to prose, poetry to novels, and more. This offering is an extension of our Palestinian Women's Library (available for free use at our Orland Park location).
DETAILS
Bring the Bold Flavors of Palestine into Your Kitchen

Re-create traditional, flavorful Palestinian meals at home with this comprehensive collection of Middle Eastern recipes. From familiar favorites like Dawali (Stuffed Grape Leaves with Beef), Shawarma and Baklawa, to more complex meals like Musakhan, Palestine's national dish, Heifa Odeh has carefully adapted her family recipes with streamlined techniques, making it easier than ever to enjoy a taste of Palestine.

Explore the full range of this rich cuisine from boldly flavored breakfasts like Ka'ek El Quds (Jerusalem Sesame Bread) and satisfying mains like Pomegranate Molasses & Harissa Salmon, to sweet treats like traditional Palestinian Knafeh, Fig & Honey Pistachio Cake and beyond. Whether you have been making Arab cuisine for ages or you are looking to expand your repertoire, this cookbook has something for everyone.
BOOK CONDITION: NEW