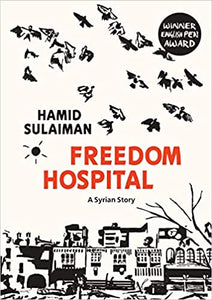 DESCRIPTION
Watan offers a curated selection of Palestinian books, ranging from works of non-fiction to prose, poetry to novels, and more. This offering is an extension of our Palestinian Women's Library (available for free use at our Orland Park location).
DETAILS
It is spring 2012 and 40,000 people have died since the start of the Syrian Arab Spring. In the wake of this, Yasmine has set up a clandestine hospital in the north of the country. Her town is controlled by Assad's brutal regime, but is relatively stable. However, as the months pass, the situation becomes increasingly complex and violent. Told in stark, beautiful black-and-white imagery, Freedom Hospital illuminates a complicated situation with gut-wrenching detail and very dark humor.

The story of Syria is one of the most devastating narratives of our age and Freedom Hospital is an important and timely book from a new international talent.
BOOK CONDITION: NEW