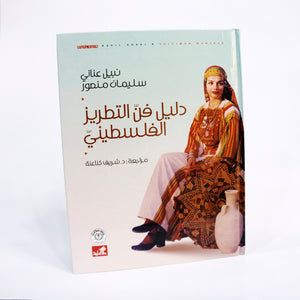 DESCRIPTION
Watan offers a curated selection of new and used Palestinian books, ranging from works of non-fiction to prose, poetry to novels, and more. This offering is an extension of our Palestinian Women's Library (available for free use at our Orland Park location).
DETAILS
An absolutely earth-shattering book for Palestinian embroidery by famed Palestinian artists Suleiman Mansour and Nabil Anani. This full-color book shows over 642 different motifs and patterns clearly and mapped out on grids, mentions the names and the regions they were used in, and includes suggested colors.
Language: Arabic. Each motif design includes its details (in Arabic, of the meaning of the motif, where to find the motif on a thobe, and the Palestinian city it comes from).
BOOK CONDITION: New