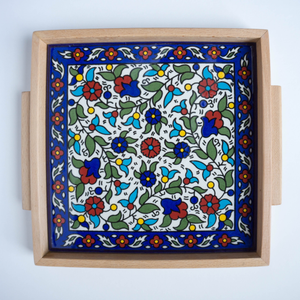 DESCRIPTION
Watan is pleased to stock a limited supply of the world-renowned Hebron pottery in our online and brick-and-mortar shop!
This flower pattern is painted onto a square ceramic tile.
DETAILS
The tray is made of wood. This piece measures to be 8.5 inches by 9 inches and about 2 inches deep.
Due to the handmade quality of this piece, each item will have differences in design and final presentation. Each piece is unique. However, we guarantee that each piece meets a standard of excellence for which Watan is renowned.
Each piece is carefully wrapped and packaged to ensure safe shipment.