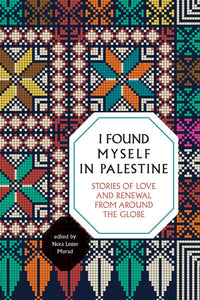 DESCRIPTION
Watan offers a curated selection of used Palestinian books, ranging from works of non-fiction to prose, poetry to novels, and more. This offering is an extension of our Palestinian Women's Library (available for free use at our Orland Park location).
DETAILS
I Found Myself in Palestine: Stories of Love and Renewal from around the Globe is a collection of personal reflections on the experience of being a foreigner in Palestine.
Mirroring the reach of Palestine's global community, contributors come from Bolivia, Chile, Germany, Great Britain, Japan, South Africa, and Sudan, as well as from the United States, and more. Spouses and parents, friends and lovers, activists, aid workers, expats and travelers—all are "ordinary people" who by choice or chance found themselves deeply involved with, and changed by, the land and people of Palestine. By turns raw, poignant, funny or sad, these "foreign reflections" on the search for belonging offer surprising glimpses into the kaleidoscope that is Palestine.
Contributors include: Pam Bailey, Mariam Barghouti, Thimna Bunte, Jonathan Cook, Helene Furani, Fatima Gabru, Neta Golan Kamal, Nadia Hasan, Donn Hutchison, Didi Kanaaneh, Andrew Karney, Maria Khoury, Corina Mamani, Cody O'Rourke, Carolyn Quffa, Rina Rosenberg, Marty Rosenbluth, Ann Saba, Samira Safadi, Zeena Salman, Steve Sosebee, Saul Jihad Takahashi, and Trees Zbidat-Kosterman.
BOOK CONDITION: NEW