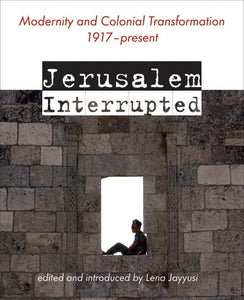 DESCRIPTION
Watan offers a curated selection of used Palestinian books, ranging from works of non-fiction to prose, poetry to novels, and more. This offering is an extension of our Palestinian Women's Library (available for free use at our Orland Park location).
DETAILS
We Begin Here: Poems for Palestine and Lebanon contains details often unexplored social and political dimensions of Jerusalem.
Most histories of twentieth-century Jerusalem published in English focus on the city's Jewish life and neighborhoods; this book offers a crucial balance to that history. On the eve of the British Mandate in 1917, Jerusalem Arab society was rooted, diverse, and connected to other cities, towns, and the rural areas of Palestine. A cosmopolitan city, Jerusalem saw a continuous and dynamic infusion of immigrants and travelers, many of whom stayed and made the city theirs. Over the course of the three decades of the Mandate, Arab society in Jerusalem continued to develop a vibrant, networked, and increasingly sophisticated milieu. No one then could have imagined the radical rupture that would come in 1948, with the end of the Mandate and the establishment of the State of Israel. This groundbreaking collection of essays brings together distinguished scholars and writers and follows the history of Jerusalem from the culturally diverse Mandate period through its transformation into a predominantly Jewish city.

Essays detail often unexplored dimensions of the social and political fabric of a city that was rendered increasingly taut and fragile, even as areas of mutual interaction and shared institutions and neighborhoods between Arabs and Jews continued to develop.
Contributors include: Lena Jayyusi, Issam Nassar, Samia A. Halaby, Elias Sahhab, Andrea Stanton, Makram Khoury-Machool, Sandy Sufian, Awad Halabi, Ellen L. Fleischmann, Widad Kawar, Rochelle Davis, Subhi Ghosheh, Mohammad Ghosheh, Tom Abowd, Nadia Abu El-Haj, Michael Dumper, Nahed Awwad, Ahmad J. Azem, Nasser Abourahme.
BOOK CONDITION: NEW