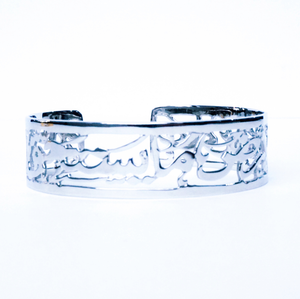 > Feature a bit of traditional Palestinian art as part of your everyday wardrobe. Our culture, after all, is part of our resistance!
> This handmade piece features a well-known line from Mahmoud Darwish's poem "On This Land". The line reads: "3ala hathihi al-ard ma yasta7iq al-7aya" (translation: "on this land, we have that which makes life worth living").
> This bracelet measures to be about 7.5 in. in length, in diameter. The cuff can be bent (with a bit of effort) to adjust the bracelet to the size of your wrist. The bracelets are cut from a metal and then plated with a silver metal. This is the second iteration of this piece; we love trying new styles!
> Though the bracelets are made from a very strong material, the bracelet should be handled with care to extend its wear and avoid scratching/general damage. The pendant is made of a plated metal, so avoid perfume and prolonged water contact to ensure longer lasting quality.
> 10% of proceeds from all items will be donated to the Palestine charity and/or project of Watan's choice! Past examples of what types of projects we donate to include: PCRF, "Masafer Yatta: They Destroy, We Rebuild", and more.