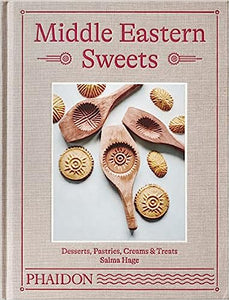 DESCRIPTION
Watan offers a curated selection of used Palestinian books, ranging from works of non-fiction to prose, poetry to novels, and more. This offering is an extension of our Palestinian Women's Library (available for free use at our Orland Park location).
DETAILS
New York Times and Food52 Best Cookbooks of 2021
'An engagingly personal mixture ... [with] a classical elegance and a bright modern sensibility.' - Nigella Lawson
The latest culinary treat from Salma Hage, one of the Middle East's most-loved home cooks - an authentic, indulgent collection of dessert recipes for all tastes and occasions.
Whether you start your day with something sweet, finish it with something sweet, or make sure sweets are within reach all day long, you'll find serious inspiration in the pages of Salma Hage's latest cookbook for home cooks. The Middle East's wide range of cultures, ingredients, and influences informs the array of dishes she includes - spiced cookies, cream-filled pancakes, aromatic pastries, and delicious cakes - with recipes that are easy to follow and celebrate simple-to-source spices and taste combinations. With natural sweeteners such as dates and honey often used in place of refined sugar, and alternate protein sources including nuts and yogurt, and including recipes that are naturally gluten-free, vegan, nut-free and dairy-free, this is the ideal book for both everyday family or festive meals.
BOOK CONDITION: NEW