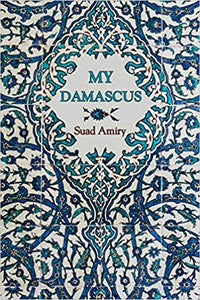 DESCRIPTION
Watan offers a curated selection of used Palestinian books, ranging from works of non-fiction to prose, poetry to novels, and more. This offering is an extension of our Palestinian Women's Library (available for free use at our Orland Park location).
DETAILS
Writer and architect, Suad Amiry, was born in an old neighborhood of Damascus, the oldest continuously inhabited city in the world. In My Damascus she takes her reader by the hand through not only the narrow alleys and lively souqs adjacent to the grand Umayyad Mosque, but also into the intimate spaces of her rich merchant grandfather's Baroudi Mansion.

Through a web of interwoven personal stories and an intricate mix of simple, complicated or sometimes devious characters, Amiry travels across space and time, spanning three generations of family history. The Baroudi women animate the story and sparkle like no others: Teta, Amiry's grandmother, rendered mute after her husband's great betrayal; her cousin, Norma, torn between love for her adoptive mother and longing for a real mother she will never know; Fatima and Ghalia, Karimeh and Laila, maids and aunts, in a kaleidoscope of vignettes.

Through them Amiry traces the social and political history of Greater Syria from the Ottoman Empire era until its present-day devastation, juxtaposing them with the most intimate, loving, often contentious, family relations and secrets. In the end, her Damascus becomes a metaphor for a dispersed family and a lost past, as well as an elegy for a city she can no longer claim as her own.

BOOK CONDITION: NEW