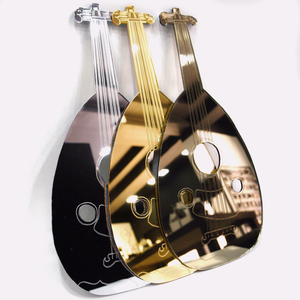 DESCRIPTION
Feature a bit of traditional Palestinian art as part of your everyday wardrobe. Our culture, after all, is part of our resistance.
This particular design comes from a Watan illustration of a beloved Middle Eastern instrument, the oud. A relative of the lute, this instrument is notably fretless and allows the musician to play a broader range of notes and microtones than fretted instruments like violins and guitars (an important factor for Middle Eastern music!).
DETAILS
Made from a strong, silver mirror acrylic.
Measures to be about 4.25 inches wide and 15 inches tall.
Though these are made from a very strong material, the piece should be handled with care to ensure longevity of the piece.
TO HANG: We recommend using double-sided sticking tape, Command strips to cut to hang up the pieces, or sticky tack (our personal favorite option).