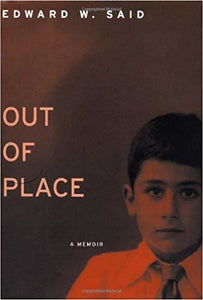 DESCRIPTION
Watan offers a curated selection of used Palestinian books, ranging from works of non-fiction to prose, poetry to novels, and more. This offering is an extension of our Palestinian Women's Library (available for free use at our Orland Park location).
DETAILS
Out of Place is an extraordinary story of exile, a narrative of many departures, a celebration of an irrecoverable past. A fatal medical diagnosis in 1991 convinced Edward Said that he should leave a record of where he was born and spent his childhood, and so with this memoir he rediscovers the Arab landscape of his early years--"the many places and people [who] no longer exist... Essentially a lost world." Vast changes occurred as Palestine became Israel, Lebanon was transformed by twenty years of civil war, and the colonial Egypt of King Farouk disappeared forever by 1952. 
Born in Jerusalem in 1935, Said was the only son in a prosperous family of five children. His ferociously demanding father upheld many Victorian values and ideals, and his adoring mother inspired his love of music, theater, and literature. His aunt Nabiha gave him his first sense of what it meant to leave Palestine, something never discussed by the family. Said writes with great passion and wit about his family and his friends--from schools in Cairo and summers in the mountains above Beirut to, as he grew older, camp in Maine, boarding school in Massachusetts, and college at Princeton University. Underscoring all is the confusion of identity as Said had to come to terms with the dissonance of being an American citizen, a Christian and a Palestinian, and, ultimately, an outsider.

Out of Place reveals an unimaginable world of rich, colorful characters, of exotic eastern landscapes. Lyrical and beautifully crafted, it is often extremely frank as well as intimate and humorous. Said has exposed a most personal past, letting us observe the people who formed him and who enabled him to triumph as one of the most important intellectuals of our time.
BOOK CONDITION: Very Good