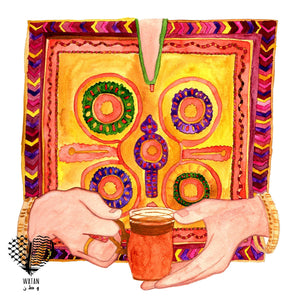 DESCRIPTION
High-resolution print of an original Watan art piece. This piece is depicts a watercolor painting of a Palestinian woman wearing a thobe sewn with tahriri (couching) embroidery.
I've been especially interested in the other popular form of Palestinian embroidery, tahriri (or couching) embroidery. Bethlehem, for example, was renowned for its intricate tahriri embroidered jackets. Palestinian women from across the country would order these jackets in preparation for Eid; these jackets would be sewn with real gold thread. I painted this panel of embroidery from a Bethlehem "Malak" thobe. I also wanted to paint some print about shay (black tea made alone or with sage or mint leaves.
DETAILS
Printed on Kodak Endura Professional Paper in a lustre finish.
Perfect for your college dorm, home, or office.