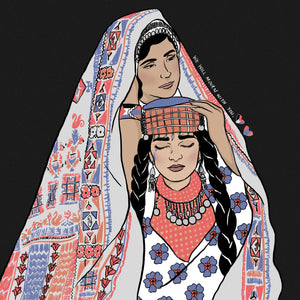 DESCRIPTION
High-resolution poster of an original Watan art piece. This piece depicts two women--Palestinian and Armenian--comforting each other with the text "We will mourn with you" accompanying them.
This illustration was drawn in honor of the 105th commemoration of the Armenian Genocide. Not only do we draw on an already radical past of solidarity (connections which systems of oppression have vested interest in making us forget), we imagine, articulate, and build new visions of justice for all. This illustration is our small gesture towards just that.
DETAILS
Dimensions of this piece are about 20 inches x 20 inches.
Perfect for your college dorm, home, or office.