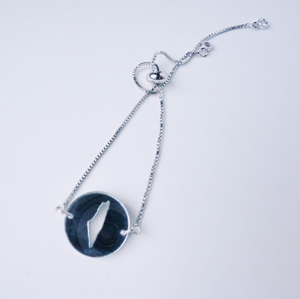 DESCRIPTION
Feature a bit of traditional Palestinian art as part of your everyday wardrobe. Our culture, after all, is part of our resistance!
This bracelet features the map of historic Palestine cut from a circular pendant.
DETAILS
Measures to be about 7-7.5 in. in length.
The design of the bracelet chains is meant to make it easy to both slip on the bracelet and adjust it to any circumference of wrist necessary.
Made from a strong, thermoplastic mirror acrylic.
Care: Though the bracelets are made from a very strong material, the bracelet should be handled with care to extend its wear and avoid scratching/general damage.