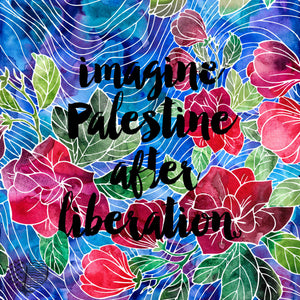 DESCRIPTION
High-resolution print of an original Watan art piece. This piece is depicts a watercolor bougainvillea background; the line "Imagine Palestine after liberation" floats in front of this background.
For some reason, when I attempt to imagine a free Palestine, the first images that pop to mind are always flowers, whether they be bougainvillea (as the background depicts), jasmine, poppy, tulips, or something else. Perhaps I'll just chalk that up to my desire to have lots and lots of flowers in my home in Palestine one day. In any case, I wanted to dedicate a print with a simple reminder to imagine a beautiful day when Palestine is liberated. Imagine beyond what political solutions and turmoil wait for us. Imagine the day when you're home, truly home.
DETAILS
Printed on Kodak Endura Professional Paper in a lustre finish.
Perfect for your college dorm, home, or office.