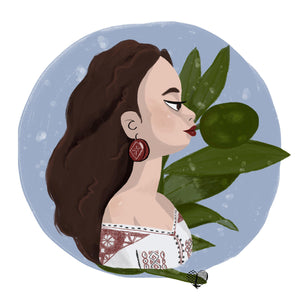 DESCRIPTION
High-resolution print of an original Watan art piece.
This piece is depicts a Palestinian woman in a modern take on the thobe against an olive branch and blue background.
This print is the latest of my experimentation with my drawing tablet and, as consequence, drawing styles. As I take inspiration from other illustrators and meld features of their drawing I like into my own drawings, I also infuse some semblance of "Palestinian-ness" into the pieces. For this piece, I wanted to create a soft (i.e. in the oil painting and drawing style, not a commentary in terms of traditional femininity in any way) look to this profile of a Palestinian woman; I really like the styles of Ismail Shammout and Irina Naji and wanted to emulate the styles in my own way.
DETAILS
Printed on Kodak Endura Professional Paper in a lustre finish.
Note: the watermark will not be included in the actual printing.
Perfect for your college dorm, home, or office.