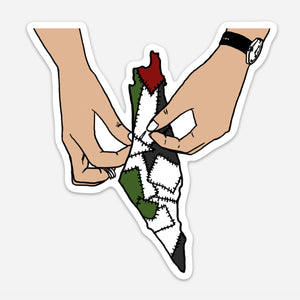 DESCRIPTION
This stickers depicts a Watan illustration of two hands sewing together a map of Palestine. This is meant to suggest that Palestine is really as we make it. We focus on the handmade, the creative at Watan and we see that same kind of emphasis in all other works for Palestine.
DETAILS
Made of a thick, durable vinyl with a UV laminate that protects your decal from scratching, rain, and sunlight.
Measures to be about 5 x 5 inches.