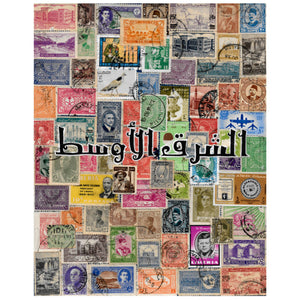 DESCRIPTION
High-resolution print of an original Watan piece. Stamps from across the Middle East form a collage background; the "Middle East" is painted in Arabic calligraphy over this background.
I've been making a few of these out of a small stamp collection I have. But both because I'm at the end of my supply and because people have inquired into the wider availability of this type of piece, I decided to, at minimum, offer a print version. 
The hand-painted calligraphy in the middle is the Arabic way of saying "Middle East" (transliterated: "Al-Sharq Al-Awsat"). The Middle East is a diverse place so this piece in no way intends to construe it as an Arab monolithic. Various ethnic groups--who may or may not speak Arabic or Arabic-related tongues--make up this region, from Kurds to Persians and everything in between. Isn't the Middle East such a wonderful place?
DETAILS
Printed on Kodak Endura Professional Paper in a lustre finish.
Perfect for your college dorm, home, or office.