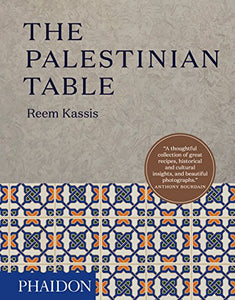 DESCRIPTION
Watan offers a curated selection of used Palestinian books, ranging from works of non-fiction to prose, poetry to novels, and more. This offering is an extension of our Palestinian Women's Library (available for free use at our Orland Park location).
DETAILS
Nominated for 2018 James Beard Foundation Cookbook Award.Winner of the 2018 Guild of Food Writers First Book Award."Reading and cooking from this essential book - a thoughtful collection of great recipes, historical and cultural insights, and beautiful photographs - will move you closer to understanding this complex, fascinating part of the world." -- Anthony Bourdain: "A DEFINITIVE COLLECTION OF 150 DELICIOUS, EASY-TO-FOLLOW, AND AUTHENTIC PALESTINIAN RECIPES INSPIRED BY THREE GENERATIONS OF FAMILY TRADITION."
  
While interest in Middle Eastern cuisines has blossomed, the nuances of Palestinian food have remained relatively unexplored - until now. The Palestinian Table is a visual feast of stunning, authentic dishes that demonstrate the true depth of this cuisine. But this is more than just a cookbook; author Reem Kassis truly creates a sense of 'place,' exploring the importance of heritage and community through her recipes and stories.  In her debut cookbook, Reem Kassis weaves a tapestry of local customs,context, personal anecdotes and traditions of Palestinian life and cooking. Ranging from simple breakfasts to celebratory dishes fit for a feast, recipes are accompanied by specially commissioned photographs, bringing these vibrant dishes to life. This striking book takes readers on a gastronomic journey across Palestine, showcasing the rich culinary history of the area.  Combining fail-safe recipes and elegant design, The Palestinian Table is a must-have for those keen to discover more about the region's culture, cooking and way of life. Sophisticated yet approachable, this is the perfect cookbook for those who appreciate the simple pleasures of being in the kitchen and the enriching power of food.
BOOK CONDITION: NEW