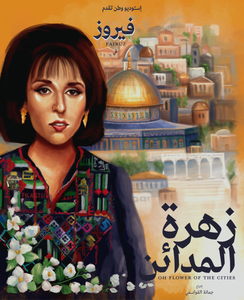 DESCRIPTION
High-resolution print of a Watan illustration of a vintage Fairuz movie poster commemorating one of Fairuz's most famous songs--especially for Palestine.
This poster is drawn in the particular style recognizable in vintage movie posters of the 60s/70s (i.e. very "pop" art). We wanted to create a particular vintage movie poster for Palestine and chose to focus on Fairuz's song "Zahret Al-Made'en" (or "Oh Flower of the Cities), which sings about Jerusalem, its central place to the Arab imaginary, and its importance in the Christian and Muslim traditions. Fairuz is also portrayed wearing a thobe made during the Intifada (source credit: the Tiraz Museum & Widad Kawar's cultural collection).
To listen to the song and watch footage of Fairuz in Jerusalem, click here. (Fun fact: we used Fairuz's appearance in this video for the basis of her portrayal in this illustration!)
To read the lyrics (Arabic & English), click here.
DETAILS 
Printed on Kodak Endura Professional Paper in the lustre finish

.
Perfect for your college dorm, home, or office.
Available in 4 colorways.