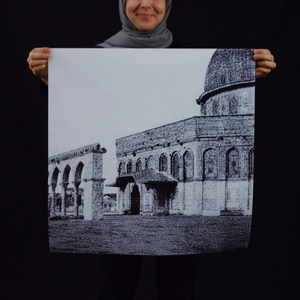 DESCRIPTION
High-resolution print of an original Watan art piece.
This piece features an old photograph of the Dome of the Rock by photographer Francis Bedford in 1862 and is overlaid by an outline of the popular Khalili pattern. The Dome of the Rock's famous painted tiles have a complicated history and much thanks are due to Armenian artisans who were commissioned to restore the holy site. To read more about this history, check this article out: http://www.stambouline.com/2015/12/from-kutahya-to....
DETAILS
The dimensions of this piece are about 19.5 inches x 19.5 inches.
Perfect (especially) for your college dorm, home, or office.